Postcards - Cumberland County - Page 16
1 | 2 | 3 | 4 | 5 | 6 | 7 | 8 | 9 | 10 | 11 | 12 | 13 | 14 | 15 | 16 | 17 | 18 | 19 | 20
21 | 22 | 23 | 24 | 25 | 26 | 27 | 28 | 29 | 30 | 31 | 32 | 33 | 34 | 35 | 36 | 37 | 38 | 39 | 40
41 | 42 | 43 | 44 | 45 | 46 | 47 | 48 | 49 | 50 | 51 | 52 | 53 | 54 | 55 | 56 | 57 | 58 | 59 | 60
61 | 62 | 63 | 64 | 65 | 66 | 67 | 68 | 69 | 70 | 71 | 72 | 73 | 74 | 75 | 76 | 77 | 78 | 79 | 80
81 | 82 | 83 | 84 | 85 | 86 | 87 | 88 | 89 | 90 | 91 | 92 | 93 | 94 | 95 | 96 | 97 | 98 | 99 | 100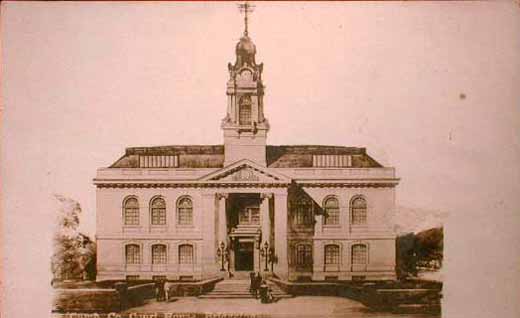 Yet another, albeit different, early 20th century view of the Cumberland County Courthouse in Bridgeton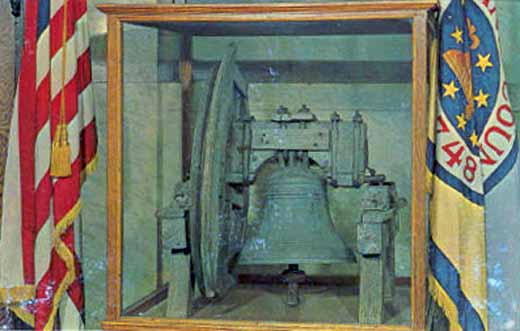 The Cumberland County Liberty Bell. The Cumberland County web site says that:
The bell, in the key of F, was made in Bridgewater, England before 1776.
This bell has been used in many ways in Bridgeton and once in Philadelphia.
Called people together for important news and meetings when hanging in the Court House that was built in 1760-61.
Rang for liberty when the Declaration of Independence was signed.
Used as a warning signal during the War of 1812.
Was a fireman's bell.
Was a school bell for the West Jersey Academy and later at the old Bridgeton High School.
Rang for the 200th Anniversary of the founding of Cumberland County in 1948.
Was on exhibit in Philadelphia during the 150th Anniversary of Independence. While there, it rang for the closing time.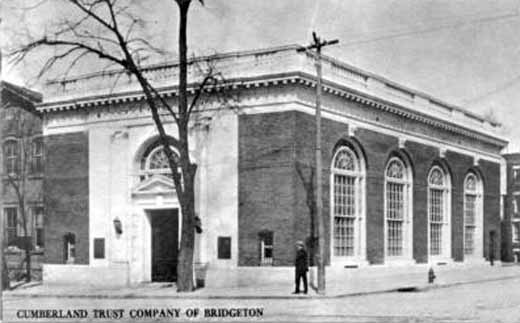 The Cumberland Trust Company of Bridgeton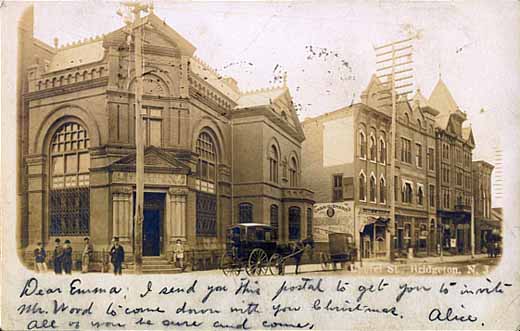 Another view of the Cumberland National Bank in Bridgeton
Bridgeton - The Cumberland Hotel sometime in the 1920s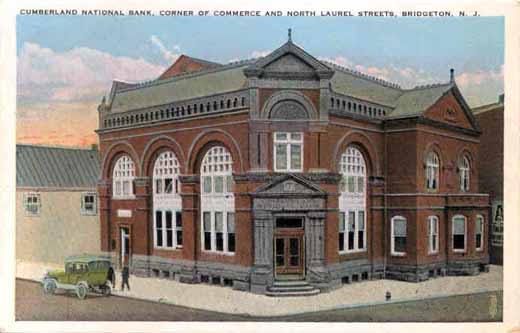 This card of the Cumberland National Bank in Bridgeton was mailed in 1945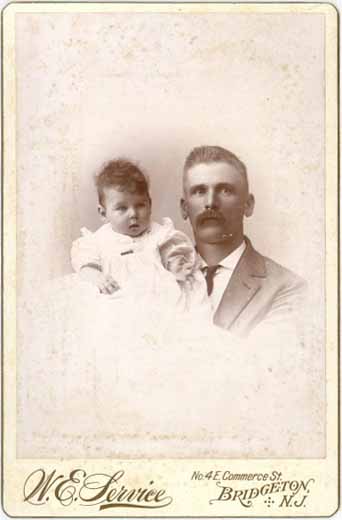 An unidentified Man and child photographed by W.E. Service of 4 E. Commerce Street in Bridgeton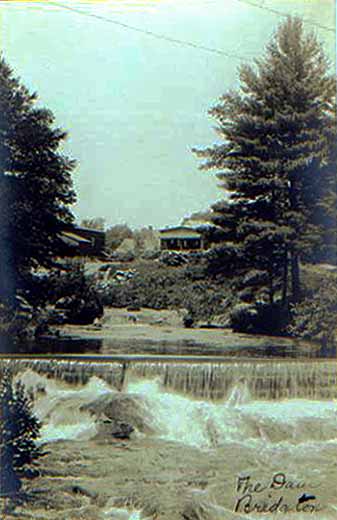 The Dam in Bridgeton City Park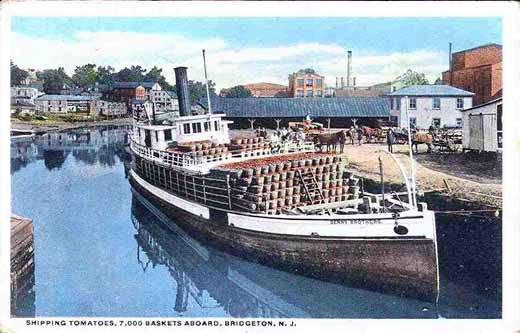 The steamboat Denny Brothers loaded with 7000 baskets of tomatoes at Bridgeton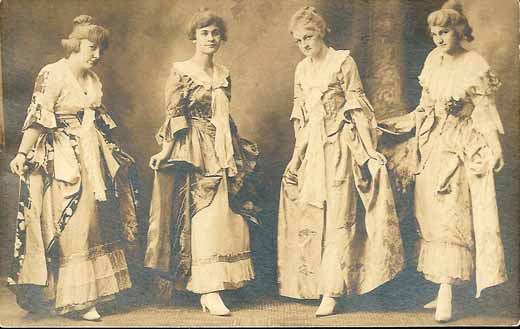 Some early 20th century Bridgetonians dressed in 18th century garb
1 | 2 | 3 | 4 | 5 | 6 | 7 | 8 | 9 | 10 | 11 | 12 | 13 | 14 | 15 | 16 | 17 | 18 | 19 | 20
21 | 22 | 23 | 24 | 25 | 26 | 27 | 28 | 29 | 30 | 31 | 32 | 33 | 34 | 35 | 36 | 37 | 38 | 39 | 40
41 | 42 | 43 | 44 | 45 | 46 | 47 | 48 | 49 | 50 | 51 | 52 | 53 | 54 | 55 | 56 | 57 | 58 | 59 | 60
61 | 62 | 63 | 64 | 65 | 66 | 67 | 68 | 69 | 70 | 71 | 72 | 73 | 74 | 75 | 76 | 77 | 78 | 79 | 80
81 | 82 | 83 | 84 | 85 | 86 | 87 | 88 | 89 | 90 | 91 | 92 | 93 | 94 | 95 | 96 | 97 | 98 | 99 | 100
Copyright 2002-2013 West Jersey History Project